The MMOA Executive Committee works to represent the Association's members. Under the clear mandate of the MMOA membership, the committee will form policy true to the stated aims and conduct day-to-day affairs. The MMOA Executive Committee is made up of the following experienced MMOs: Ashleigh Kitchiner, Carolyn Barton (Stone), Claudia Petta, Mike Ambler, Jon Kenny, Diana Antochiw, Patrick Lyne, Neil Niru Dorrian, Denis Kovshov and Justin Judge Current Committee Members
Ashleigh Kitchiner (Chair)
Ashleigh is a passionate marine biologist and environmental advocate. She is educated formally with a BSc. (Hons) Biology and MRes Marine Mammal Genetics from the University of Chester. She conducted research utilising stranding data to compile population genetics of long-finned pilot whales (Globicephala melas) across the UK. Her main areas of expertise are marine mammal and seabird identification, policy and legislation, distance sampling methods, acoustics, and genetic analysis.
She has been fortunate enough to apply this skillset to the energy sector, working offshore in various roles for five years. Ashleigh has developed and delivered webinars, conferences and, training courses, onboarding new Marine Mammal Surveyors (MMS) and environmental advocates. Ashleigh is a commercially-minded research-driven evidence-based individual and would like to bring her experience to the Marine Mammal Observer Association (MMOA) executive committee to create a network of empowered Marine Mammal Observers (MMOs) and professionals internationally.
Carolyn Barton (Stone) (Vice-Chair)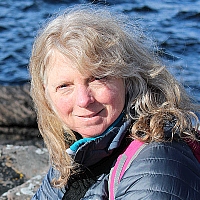 Following a PhD on barnacles, Carolyn spent 5 years with the JNCC's Seabirds at Sea Team but has spent the last 25+ years working in MMO-related areas.

She has substantial experience working as an MMO covering seismic surveys, drilling, dredging and pile-driving operations. She has been an accredited MMO trainer since 1996 and has trained over 3000 MMOs. Carolyn has also been involved in the development of mitigation measures and data recording protocols. She has created and analysed JNCC's database of MMO data from UK waters, including analysis of a 25-year dataset to examine the effects of geophysical surveys on marine mammals and compliance with the JNCC guidelines.

Carolyn recognises the importance of maintaining professional standards and is pleased to have served on the MMOA committee since 2007.
Claudia Petta (Secretary)
Claudia is a Vet and a highly motivated professional Environmental Advisor and Marine Mammal Specialist. Passionate about the ocean and its conservation, she is also a passionate environmental advocate with 4 years' experience in marine mammal behavioural research using theodolite in Brazilian coast, and over 16 years' experience in marine mammal fieldwork and mitigation, with extensive experience working as a Lead MMO and PAM Operator.
Her skills also include extensive experience in developing and delivering environmental trainings and lectures for graduate students and offshore crew, and some experience with marine mammal standings, including rescue and rehabilitation.
Claudia is highly committed to improving standards of mitigation, defending the Importance of continued professional development.
Mike Ambler (Treasurer)
Mike completed an undergraduate degree in Aquatic Biology from the University of Aberystwyth and then went on to gain an M.Sc. in Applied Hydrobiology from the University of Cardiff.
After a spell as a biologist with the Environment Agency Wales, Mike trained to become a teacher and was employed as a secondary school science teacher for almost a decade, before moving into the offshore consultancy business in 2010. Mike is now an experienced Marine Mammal Observer, PAM Operator and Environmental Scientist and has undertaken many offshore projects around Africa and Europe.
Mike has conducted marine mammal surveys for MARINElife in the Bay of Biscay, and devotes a lot of his onshore spare time to conservation work with the Wildlife Trusts. Mike has been a full member of the Marine Mammal Observer Association for the past five years and joined the Executive Committee in 2016.
Jon Kenny
Jon is a marine biologist and environmental ecologist with over 12 years' experience in environmental impact assessment, fisheries, and environmental mitigation. He is also an experienced diver with 15 years of recreation and later as a commercial diver and diving instructor.
His work has taken him to Central and South America, Africa, Asia, Europe and the Antarctic. Jon has led dive and survey teams, managed a marine protected area (MPA) for a government fisheries advisory group, been project coordinator for environmental impact assessments (EIA), and ran the whale shark education and turtle protection programs among other environmental projects around the world.
Jon's most challenging work was in fisheries auditing vessel safety and catch records according to strict and complex regulations in sometimes extreme conditions. He currently lives in Sonora Mexico on the coast of the Gulf of Mexico.
Diana Antochiw
Diana Antochiw is a marine biologist who has been working with marine mammals since 1996. She founded the Yucatan Marine Mammal Stranding Network, the first of its kind in Mexico, and helped train people participating in other stranding response groups.
She served as a MMO on board oceanographic research vessels of the Mexican Navy and later was recruited by Lamont Doherty Earth Observatory as a MMO for marine seismic research. She has advised several organizations working in marine mammal stranding response and marine fauna rescue and research. Later, she helped train some of the first MMOs in Mexico. She works as MMO for the seismic industry worldwide while she still conducts research in marine megafauna in Yucatan.
She is currently a board member and Research Coordinator of the Marine and Coastal Megafauna Research Institute (INMMAR) in Mexico and a member of the Local Committee for Response to Oil Spills, directed by the Mexican Navy.
Patrick Lyne
Patrick Lyne has worked in mitigation for 11 years and been involved with the MMOA committee for seven years.
Patrick is committed to improving standards of mitigation at a regulatory and MMO (and PAM) level. Industry contraction has affected everyone and perhaps the standards in mitigation more so. However Patrick hopes things will change and would like to see a shutdown employed in all mitigation procedures where an injurious level of sound is used.
He would also like to see experience as part of requirements in future work, such that one MMO and PAM operator on the mitigation team has some credible expertise.
Neil Niru Dorrian
Niru is a Senior Environmental Advisor and Marine Mammal Biologist. He is a Fellow and Chartered Marine Scientist through the IMarEST, a Chartered Scientist through the Science Council, and a certified Environmental Clerk of Works. With 16 years' experience over multiple international marine and terrestrial projects specialising in marine mammal fieldwork, environmental mitigation & monitoring, mitigation plan development, project management, advisory services, conservation, animal rescue, and stranding pathology.
He is a Co-Founding Director at Whalefish - an international non-profit marine conservation organisation, and Co-Chair of the IMarEST Marine Mammal Special Interest Group. He also previously served two successful terms as Chair of the MMOA. In 2018 Niru received the IMarEST Outstanding Contribution Award – Marine Ambassador, which recognized his work as an individual who has made a significant contribution to advocacy, communication, outreach, policy, and public service in the marine sector.
Niru is passionate about professional standards and driving positive and progressive changes in environmental sectors.
Denis Kovshov
Denis is a skilled marine environmental consultant experienced in research and protected species mitigation and environmental sampling. Having worked extensively investigating the distribution and abundance of the IUCN Gray whale population in the shallow waters of Sakhalin Island with Shell and Exxon since 2008, he then moved on to work in the United Arab Emirates with ADNOC since 2019.
He is familiar with behavioral responses and veterinary examination being involved in various projects. He has accrued over 10 years of work experience undertaking a variety of marine environmental surveys and advisory projects for the offshore sectors.
He specialises in Marine Mammal Surveying for Baseline and Environmental Impact Assessments, advisory services, conservation outreach, crew briefing and operational standards.
Justin Judge
Justin works as a Marine Biodiversity Officer, Marine Mammal Observer and Coordinator for Dive-NI. He has strong interests in functional ecology, conservation biology, conservation management, marine mitigation and MPAs and completed his PhD in marine food web dynamics in 2020. Justin's expertise lies with investigating the effects of anthropogenic and natural perturbations in ecosystems as well as providing associated mitigation services.
Regarding the latter, Justin has worked as a Marine Mammal Observer for 8 years and has been involved in numerous domestic and international projects.
He previously worked on implementing Marine Protected Area management plans with stakeholders in Ireland, was involved in many national seabird tracking projects and is an active Marine Mammal Medic volunteer.
We would also like to thank everyone else who has contributed valuable assistance and advice in the development of the MMOA, namely Ashley Noteworthy, Heather Fowle, Sara Bissett, Gary Robinson, Jacklyn Barrs, Sarah Barry, Craig Bloomer, Wanda Bodnar, Zoe Crutchfield, Monica Arancibia Colgain, Sarah Dolman, Ruth Esteban, Aoife Foley, Alison Gill, Michael Hill, Phil Johnston, Claire Lacey, Gareth MacGlennon, Enda McKeogh, Simon Mustoe, Peter Nilsson, Ed Oliver, Ursula Pena, Chris Pierpoint, Frances Robertson, Juliet Shrimpton, Mark Simmonds, Heather Tabisola, Michael Unwin, Els Vermeulen, Juliet Vines, Caroline Weir and Richard Woodcock. We would also like to thank and acknowledge the advice provided for our position statements by David Hannay, Roberto Racca, Paul Shone and Peter Ward.